Title:  Revived (Revved Series Book #2)
Author:   Samantha Towle
Release Date:  July 12, 2015
Genre:   Contemporary Romance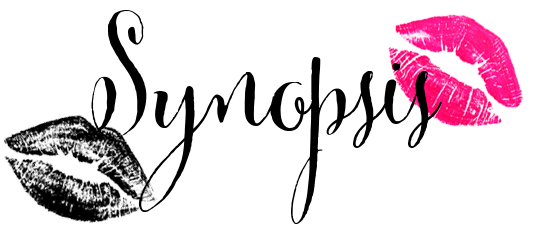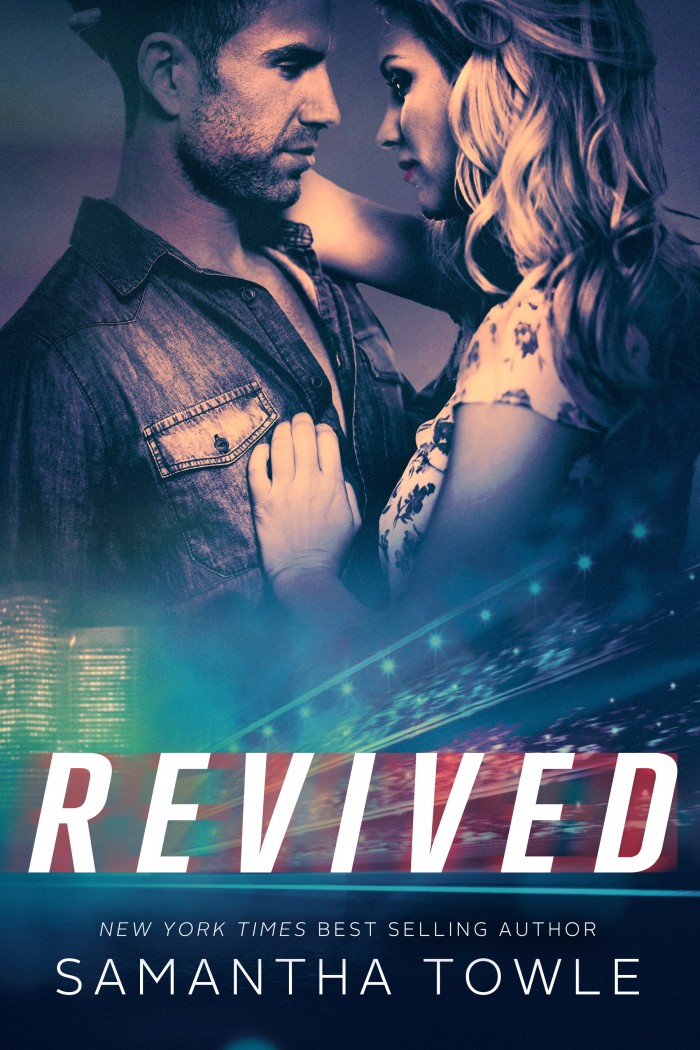 India Harris didn't have the best start in life. Abandoned as a baby, she and her twin brother, Kit, spent their lives in foster care, only having each other to rely on. Then, at a young age, a relationship with the wrong man left India pregnant. Wanting to give her son the life she never had, she put herself through school and graduated with honors.

Now, at the age of thirty, she's a highly respected therapist.

At the top of his game as a Formula One driver, Leandro Silva had everything—until an accident on the track left him staring death in the face. After enduring twelve months of physical therapy, Leandro is now physically able to race, but his mind is keeping him from the track. Frustrated and angry, Leandro's days and nights are filled with limitless alcohol and faceless women.

Entering the last year of his contract, he knows he has to race again, or he'll lose everything he spent his life working for. Forced into therapy to get his life back, Leandro finds himself in the office of Dr. India Harris.

Falling for his uptight therapist is not part of Leandro's plan.

Having unethical feelings for her patient, the angry Brazilian race car driver, is not part of India's plan.

But what if the wrong person is the only person who is right?

Have you read Revved?  Check out my review!  I adored Andi and Carrick – they're totally angsty and extremely sexy!
Title:   Revved (Revved Series Book #1)
Author:   Samantha Towle
Genre:   Contemporary Romance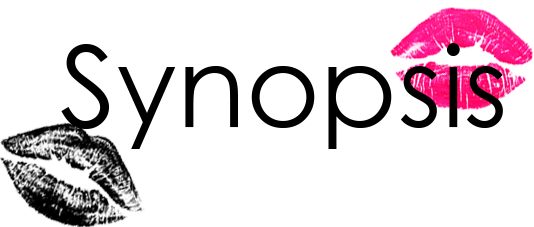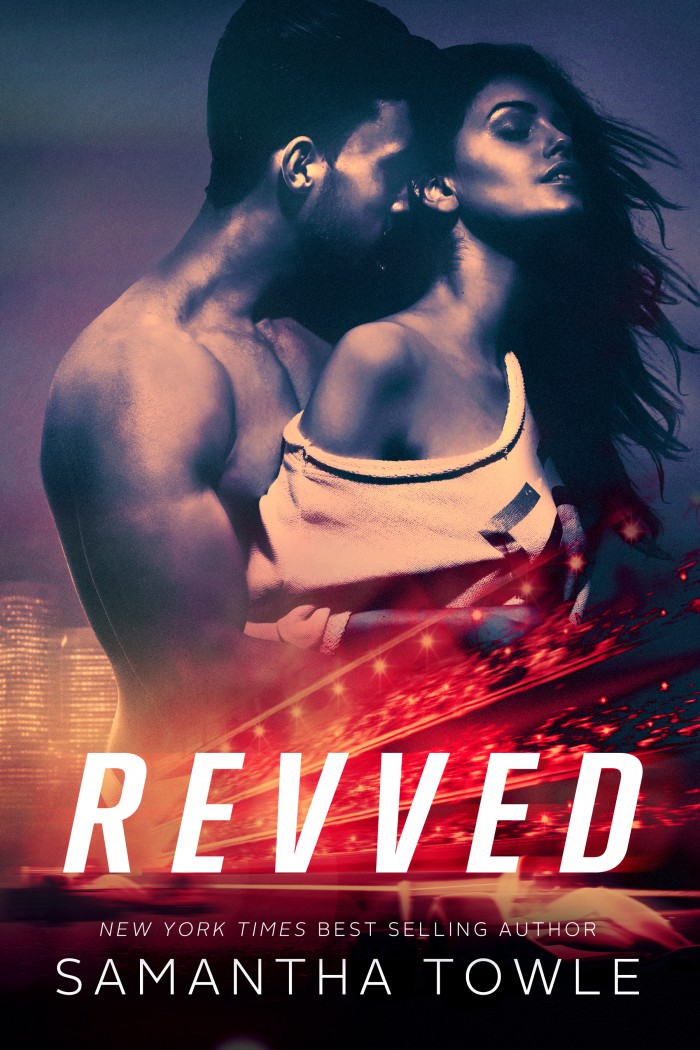 Race car mechanic Andressa "Andi" Amaro has one rule—no dating drivers. With a good reason behind the rule, she has no plans on breaking it.

Carrick Ryan is the bad boy of Formula One. With a face and body that melts panties on sight, and an Irish lilt that leaves women on their knees, begging for more. He races hard and parties harder. The youngest driver to ever sign with F1, he's still at the top of his game five years later, breaking hearts on and off the tracks.

When Andi is offered her dream job working in the glamorous world of F1, she leaves her home in Brazil, positive she can handle working for Carrick. But she's not prepared for the off-the-chart sparks that fly the moment they meet.

Now, Andi has a crush on the one man she can't have, and her resolve is about to be put to the test, because Carrick has decided he wants Andi, and he plans on testing her to the very limit…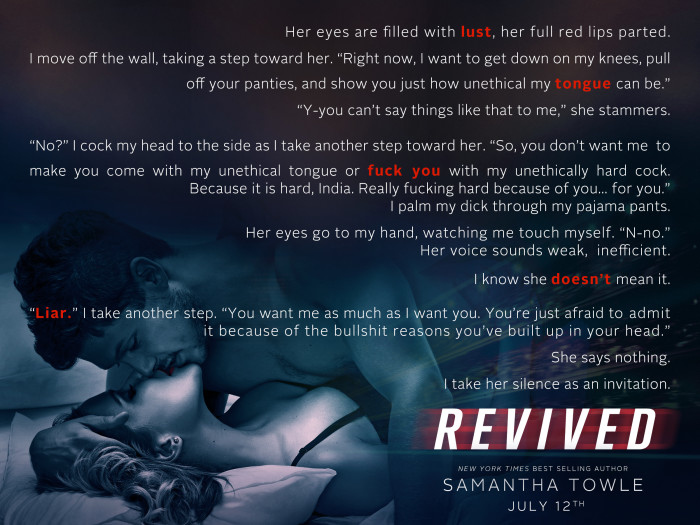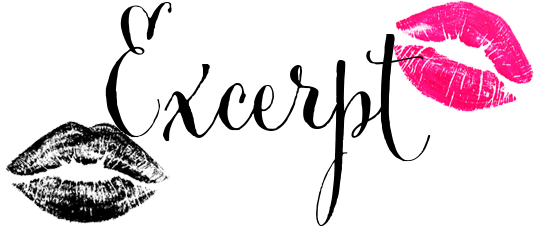 "Are you yelling at me?" I say to her.
Seriously, there's something wrong with me because I get majorly turned on when she gets mad. Seeing her all fired up has my cock as hard as nails. Well, pretty much anything she does has my cock hard, but her anger is a definite aphrodisiac to me.
"Bloody well sounds like it, doesn't it?" Her brow is all puckered into a frown.
She looks hot as fuck.
"I really want to fuck you right now," I tell her in all seriousness.
Her eyes swing my way, wide and blazing. "Are you being serious?"
"I never kid about fucking you."
"Jesus! You're really pissing me off," she huffs.
She makes to get up from the sofa, but I catch her arm, stopping her, and I pull her onto me. She makes a sound of protest but doesn't actually try to get up.
"And you're really turning me on," I say to her.
Pausing she stares down at me. "I'm really mad at you right now, Leandro," she grumbles, her voice less angry than before.
"Yes, well, I'm kind of mad at you, too, India. But I'm still hot as fuck for you." I slide my hands to her ass giving it a squeeze.
She narrows her eyes at me. "We're not having sex."
"Not right now we aren't, but as soon as Jett is asleep, I'm tying you to your bed and fucking the hell out of you."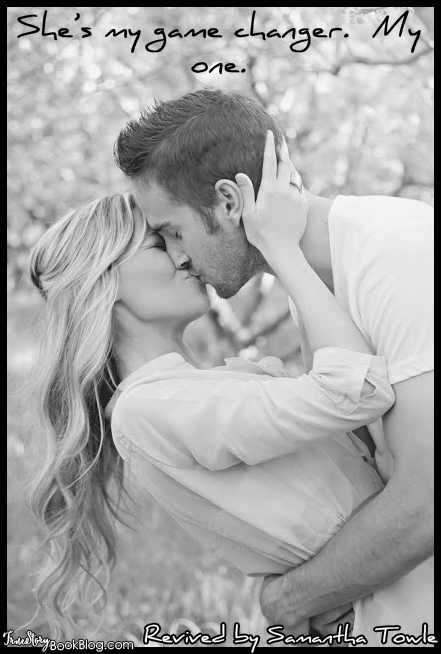 My rating: 3 of 5 stars
*ARC Given to Blog for Honest Review*
3 "Being second is to be the first of the ones who lost." "unethical"
I can't help but get excited about Samantha Towle's books – I love her characters, the humor, the sex…the result is a combination that just works for me. Plus after meeting Leandro in Revved, I was very ready to see what this Brazilian stud had to offer. While I did enjoy Revived overall, I was slightly frustrated that it didn't meet the expectations that I was hoping for.
Dr. India Harris…kind, sweet and strong, Indy is magnificent in so many ways. After reading the Prologue I was left thinking and feeling so much. When the synopsis says she didn't have the best start in life, there is no playing around with that. I truly don't know where she found the strength and courage to become a mother at such a young age, let alone being an orphan and really only having her twin brother, Kit, to rely on – but she did it. And she's absolutely more amazing because of it. To me, it felt like Indy had been spending her whole life proving people wrong…that she's not going to be another statistic, that she's not a victim of circumstance and that she can do anything she puts her mind to. Which is why she's a successful therapist with a thriving practice and has an amazing son to show for all her hard work. But all it takes it one patient to truly rock her world and show her what she is missing.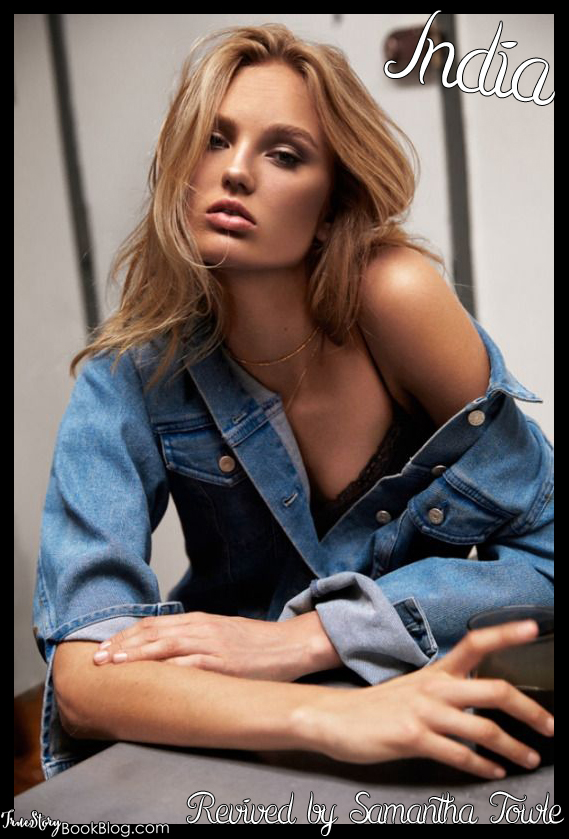 "I appreciate your concern, but I'm happy as I am."
"You're safe and comfortable."
"And what's wrong with safe and comfortable?" I frown.
"It's boring."
"Yeah, well, look what happened to me the last time I chased excitement."
Leandro Silva…he is a delicious combination of fierce, passionate, driven, strong willed and sexy as fuck. It's not like we get to see him a lot in Revved, but what I did see…I liked. He has this very cocky personality…he knows he is good and he's not going to let anyone forget it – but it never gets to the point of arrogance (or annoyance!). After the accident that almost killed him, Leandro is struggling…something no man will ever admit to. Not only is it just not in his being to admit weakness, but in his career…it could possibly destroy his reputation and image. He is battling demons that are stronger than him and the only option he has left, besides giving up, is going to professional for help. Fortunately for him, his doctor saves him in more ways than one.
'I should have died. I would have died a legend.
Not the man I am now.
A washed-up has-been.
I can't be him anymore. This weak fucking version of myself.
I have to race again.
I have to get back in a car.
I have to do this.
I can do this.'
Indy and Leandro have one thing down pat…they are insanely, deliciously, fantastically HAWT. Good gravy…the sexual chemistry coming off of these two could power a third world country. They have the spark, they have the attraction, they have the lust and when they come together…just wow. I said it in my Revved review – Samantha's characters are absolutely fantastic, so I knew I was going to like Leandro and India… and the set up for these two was perfect. Individually they are compelling, I loved their back stories, they are endearing, real and likeable in so many ways…and together they are hot, electric, passionate. I got more than I could have ever dreamed from their sexual connection…which don't get me wrong, was awesome in its own right…but unfortunately, I was missing something.
'From the moment he met me, I've seen Leandro look at me in a sexual way, but I know that's because he uses sex as a defense mechanism.
He looked at me the way he would any other woman he deemed attractive – as a temporary means of escapism.
But, lately, the way he's been looking at me is different.
I don't know how to explain it, but he's no longer looking at me like I'm just another object for him to screw.
He's looking at me like he actually wants me.
And it scares the crap out of me.
Because I want him, too.'
At the beginning…I was feeling them, I loved India and Leandro's connection, it was very passionate and while a little simple and predictable, it still worked for me. I was obviously still hoping for more, but I assumed that was to come. Then we have the pinnacle…where everything comes to a head and I'm holding my breath…I turn the page and get punched in the gut with 7 months later. Holy wow…I was reeling – in a good way. It squeezed my little heart to bits and I was so excited for the angst…only to feel extremely let down. The resounding pay off was…too fast…too quick…too easy. Did they have a connection? Yes…absolutely – granted it was mainly based off of a reciprocal attraction and the interaction in their therapy sessions, but there was no real basis outside of that. They saw each other two other times, outside of therapy…I needed more than that. I understood the reason why they couldn't be seen outside of therapy, and I'm not trying to discount that…but a relationship is based on more than just the desire to fuck someone and after everything came together, that was kind of all I got. There's nothing wrong with a superficial relationship, but if you're going to pull the love card, it's not going to cut it for me. I'm not asking for a lot here, but I cannot force emotions that I don't feel and I didn't feel the love. It seemed like every time there was an opportunity to show them creating a real bond, having a conversation, opening up – anything – it was veto'd for sex. Don't get me wrong, a I'm a dirty book whore lover…but I missed that connection. I felt the lust…I felt the attraction….I felt the possibility of love…but I also didn't see the need for the rush.
"You really miss it." It's not a question. I already know he does.
He turns his head to me, resting his cheek on his arm. "How can I miss something with a physical ache and be absolutely terrified of it at the same time?"
"Usually, the things we love most are the things that terrify us."
There were a few instances of redundancy…which is a huge pet peeve of mine, and I guess when I started to really miss the deeper connection between Leandro and Indy is when I started to pick up on that stuff more. It wasn't to the point of annoyance or anything, but enough to catch my eye. I don't want it to come across like the book was poorly written – it wasn't, or else I would have stopped reading completely. The story line was different and honestly did surprise me (like the 7 month moment!) and I was not expecting the twist towards the very end. In the back of my mind, I knew it was a possibility but the way Samantha executed it was…pretty amazing. I really liked it – really got me all tied up in knots…and then, I was a little let down again. At that point, it's almost at the 90% mark so I was wondering how things were going to finally end…and once again, it just seemed too easy. If the rest of the book had been more angsty or had more conflict, I probably would have been ready for a little reprieve, but I think that was another missed opportunity to inject some life into the story. I didn't necessarily need it to create unnecessary conflict between Indy and Leandro but…I needed more.
"I have never been in love before, India, so believe me, I am not taking our relationship lightly."
"You've never been in love?" I eye him skeptically. "Ever?"
"No."
"How is that possible?"
I know I've never been in love before him, but Leandro has been around a lot more women than I have men. I just can't believe he's never fallen in love with one of them before.
He shrugs. "I waited for it to happen. It never did. Now, I know why."
My mouth dries. Licking my lips, I ask, "Why?"
His eyes darken with emotions. He traces his index finger over my cheek, tucking my hair behind my ear. "Because I was waiting for you."
The epilogue wrapped everything up nicely and I did love the end…it was a lot of info to process, but it was all beautiful and made me so happy for India and Leandro. There had been a couple of hints dropped about Kit (India's twin brother) and Petra (Andi's friend) and from what was said in the epilogue, I have a feeling Kit's book might come up later…which would be awesome. Kit's a manwhore (*ahem*…just like Carrick and Leandro…be still my heart) and with his past and what he went through with Indy, I think it could make for an awesome story.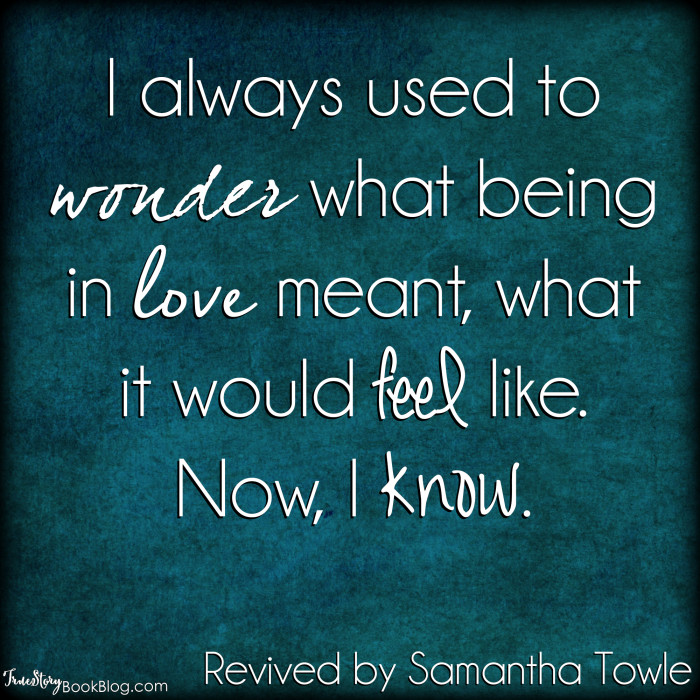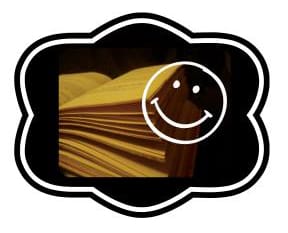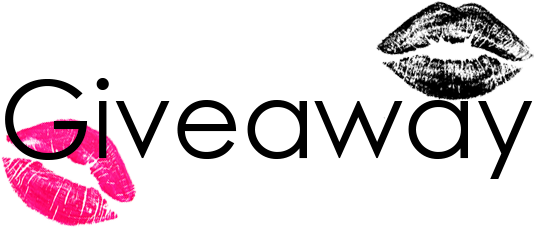 Samantha Towle REVIVED Release Week Giveaway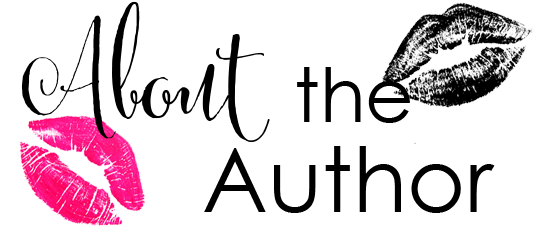 New York Times, USA Today, Wall Street Journal and international bestselling author Samantha Towle began her first novel in 2008 while on maternity leave. She completed the manuscript five months later and hasn't stopped writing since.
She has written contemporary romances, THE MIGHTY STORM, WETHERING THE STORM, TAMING THE STORM and TROUBLE.
She has also written paranormal romances, THE BRINGER and the ALEXANDRA JONES SERIES, all penned to tunes of The Killers, Kings of Leon, Adele, The Doors, Oasis, Fleetwood Mac, and more of her favourite musicians.
A native of Hull and a graduate of Salford University, she lives with her husband, Craig, in East Yorkshire with their son and daughter.